Uechi Ryu Karate
International
---

Germany

---
UECHI RYU KARATE FLOURISHES IN GERMANY
Uechi ryu karate was first established in Germany in 1982 by American Eric Bishop who was stationed there in the Army. At the end of his tour of duty he left Uechi ryu karate in the hands of his senior student Andreas Haberzettl.
Haberzettl continued teaching and nurturing the growth of Uechi ryu karate in Germany. To address the demand for Uechi Ryu-style training, he opened two dojo, one in Bad Kissingen and another in Wuerzburg. Sensei Haberzettl's devotion to Uechi ryu karate persevered and classes continued to grow at both locations.
In 1994 he contacted Sensei Alan Dollar to discuss the possibility of Sensei Dollar's visiting Germany to teach the Kenyukai method of Uechi ryu karate.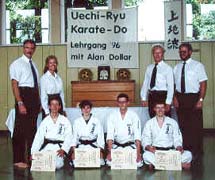 Sensei Alan Dollar, Alice Dollar, and Doug Achterberg
with newly promoted students of Sensei Haberzettl
Shihan Dollar and other black belts from the
Antioch Kenyukai Dojo
conducted training camps in 1995, 1996, 1997, 1998, 1999, and 2001 in both Wuerzburg and Bad Kissingen. Several photos from those training camps are included below and on
Page 2
. Enjoy.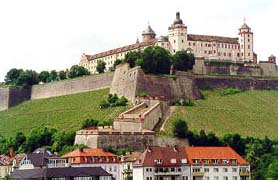 The scenic landscape in Germany is peppered
with quaint villages and historic castles.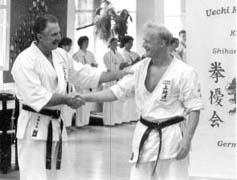 Sensei Dollar congratulates Sensei Haberzettl
on a job well done!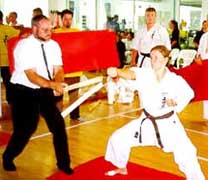 Yondon Aachterberg of the Antioch dojo
breaks a pole across the arm
of one of Sensei Haberzettl's Ikkyus.
During the 2001 training camp, Sensei Dollar tested and subsequently promoted Sensei Haberzettl to Godan, fifth degree Black belt.
---
---